Send Inquiry
We Offer most effective and reliable and industrial dyes like Acrylic Basic Dyes, Acrylic Mixture Dyes available at competitive prices.
About Us


Colored dyes and pigments are utilized for making a number of products such as coloring pigments for printers as well as for a number of plastic based polymeric wares, paints and water based coats. With the goal of providing a better alternative and provide better post-utility results, Suraj Dye Chem, an ISO 9001 : 2008 certified company, offers an expansive range of the best quality and most effective dyes and chemicals, which are widely appreciated for their efficacy.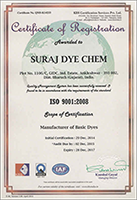 Our company was established in 1992, and since then, we have made a definite mark on the industry, pioneering the development of a number of supreme quality products which made a visible impact on productivity an left a benchmark for our peers to follow. Backed by a team of qualified chemical expert and experienced marketing personnel, we have cemented our position in the market as a noted Manufacturer and Supplier of products such as Basic Dyes, Acrylic Basic Dyes, Acrylic Mixture Dyes, Industrial Dyes, Printing Ink Pigments and Acrylic Mixture Dyes to name a few.

Under the tutelage of our mentor Mr. Divyang M.Shiroya, whose visionary ideas and guidelines have been an indispensable asset for our company's remarkable success, we have amassed considerable critical acclaim and praise from all corners of the industry which have brought us numerous laurels. Our dyes are brought to use across niches such as Leather, Paints and Finishes and Printing industry being just a few of them, to make products such as ink pigments, plastics, enamels and air-drying coats.

The greatest share of our success goes to our team which consists of personnel such as chemical experts, quality controllers, logistics personnel, packaging and logistics experts as well as experienced marketing personnel, whose diligent efforts have translated into growth and development of our company.

Our Products

Ours in an assorted range of the most effective dyes and coloring pigments which are employed by a wide base of industries for synthesizing a diverse array of products. Following is a list of broad categories to which our products belong :

Basic Dyes
Acrylic Basic Dyes
Acrylic Mixture Dyes
Printing Ink Pigments
Vision and Mission
We seek to empower our clients with the best quality and most reliable dyes and other coloring substrates and the process, aim to strengthen our stronghold on the market and establish our company as domain leader in the foreseeable future. Our vision is to become pioneers of groundbreaking products and have take the route of relentless hard work, determined efforts and an unfazed pursuit of perfection to realize our corporate goals and expand the horizons of our company's business.
Latest Trade Offers
Fostered with immense years of industry experience, we are involved in manufacturing and supplying of Astra Phloxine (BASIC RED 12) in Ankleshwar, Guj..
We are prominent organization involved in manufacturing and supplying ACRYLIC BLUE G Dye to our clients in Ankleshwar, Gujarat, India. This is formula..